Fall 2020 Trend Report
---
4 must-wear looks to mix up your Fall jewelry style.

---
ALEX AND ANI | FALL 2020 TREND REPORT
After being in lockdown for months, we are finally starting to adjust to our 'new norms' and feeling empowered to break out of our shells and embrace New Beginnings. Fall is dubbed as the "New, New Year" and is the perfect time to reflect, reset and recharge. The time is now to tap into what makes us unique, to try new things and to be open to exploring new opportunities.
This season, we encourage you to Try Something New and let your needs, desires and truest selves emerge through your jewelry mix. Our latest collection was carefully curated with YOU in mind. Wear these pieces for the strength, protection and guidance you need and keep close to you for daily inspiration. Time to break free of our comfort zones, retire our sweatpants and step back into what makes us feel good about ourselves. Trust us, you will love these trends that can be worn now and forever.  
 

|1| All-In-One Layered Necklace
---
Get the look with an all-in-one necklace that takes the work out of layering individual chains. For those who are unsure of where to begin with it comes to layering, this is the style for you. Featuring genuine gemstones paired with iconic symbols, this new necklace style from our Earth Sultry Collection is easy to style and plays well with a variety necklines.


|2| Gemstone Stretch Ring Sets
---
Stacked or solo, adorn your fingers with this 3-piece set set. Stretch gemstone rings and fun and easy to layer. Get more wear out of the jewelry you love by playing with different combinations that show off your personalized style. Featuring genuine gemstones, 3-piece ring sets are available in Sodalite, Red Jasper, Onyx, Amethyst and Pineapple Jasper.


|3| T-Bar Toggle Necklace
---
Wear your go-to mantra close to your heart. Keep a little 'love, luck or hope' around your neck with this fashionable toggle necklace. The length of this style is not as tight as a choker, so it hits perfectly right below your collarbones for an effortlessly, chic look. Available in Shiny Gold, Rose Gold and Shiny Silver finishes.
---
Mix, match, layer, repeat. Gone are the days of wearing only gold with gold or silver with silver. Highlight all your moods and styles by mixing metals. These textured styles are everyday jewelry classics that can be worn now and forever with your favorite symbols.
---
Our jewelry is meant for you to express your unique self. No matter where you are in your journey, it's time to celebrate the energy within. Every time you think of the past, you honor it. When you dream of the future, you believe in it. And when you adorn your body, you own it. The jewelry you wear is part of your story. Wear what you believe in, believe in what you wear.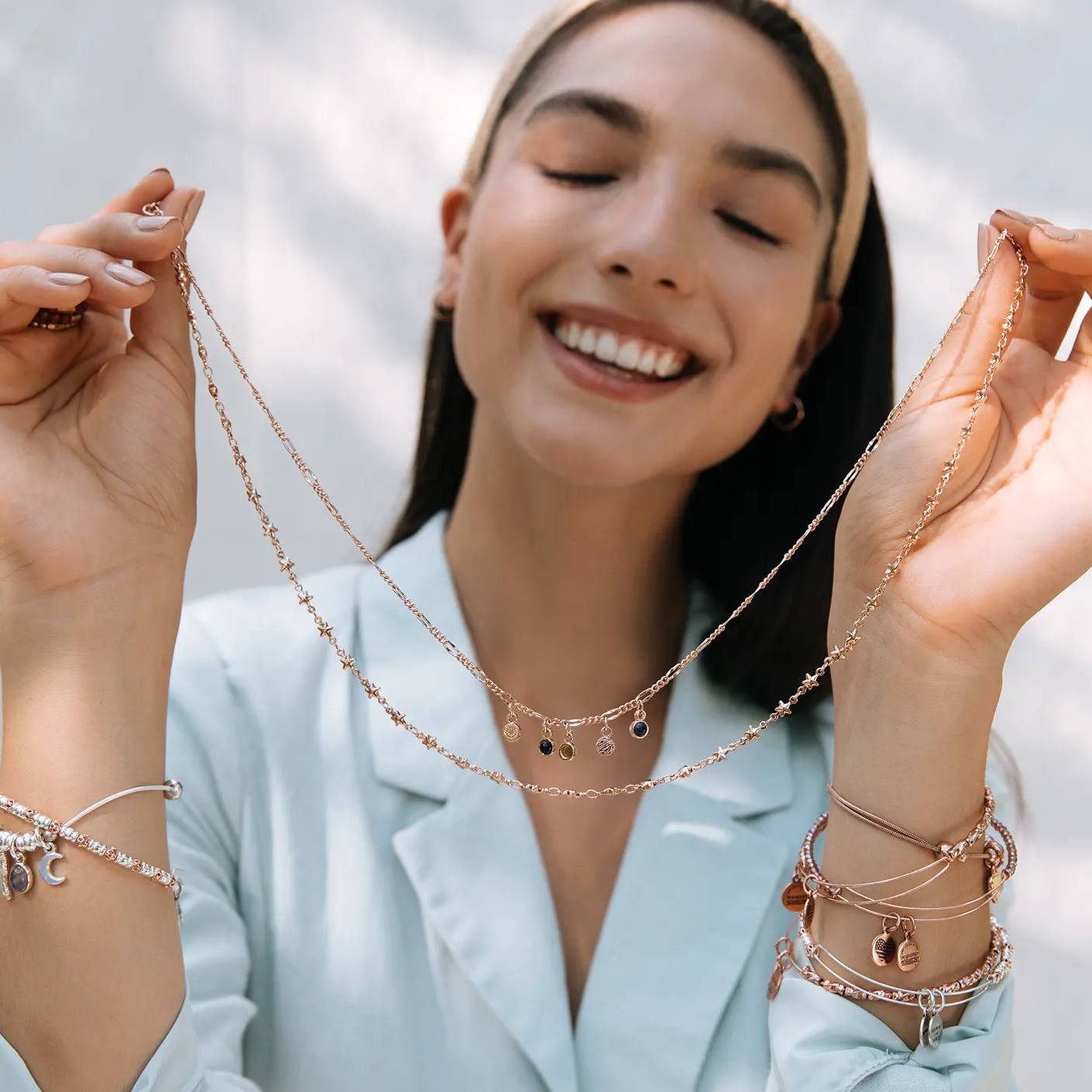 ---
---